Sefton Park Gig
Two of the Bleedinggums' members (Mambo & Bad) played in the gig at Sefton Park, Liverpool on the 16th of September 2007. The gig was a yearly event organised by the Mersey Bowman Tennis Club with the aid of Zolat, who once played for the Bleedinggums during the Leeds Aspiration Night last June. Around 100 people came to see Mambo & Bad performed that night including Soed & Kadir (two more Bleedinggums' members) who can't play on that night due to some personal reasons (hmmm... not good enough kot.. hahahaha).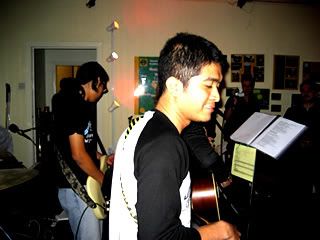 Anyway, as usual, Mambo stunned the audience with his strat's solo (dah ade effect baru la katekan..haha) and Bad caught them breathless with his usual nerve trembling bass. Among the songs being played were

Sweet Child O'Mine

,

Black Magic Woman

,

La Bamba

,

Johnny B Good

,

Knockin' On Heaven's Door

and many more (around 20+ songs). Well done, lads.... I know it's not easy to play songs that you don't really wanna play... but you've really rocked the night, bebeh!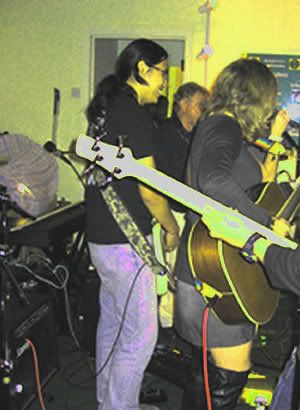 Other instruments played that night: Drums & Keyboard (not at the same time though!): Zolat; 2nd guitar: Liz; Saxophone: Mike, Percussions: Jim; Vocals: Elaine, Tyra, Peter & Paul. [Sorry if I've missed anyone.]